Ordinary copiers are over. Conventional MFPs are now giving way to Smart Multi-function copiers. They are a new series of application powered multi-functional copiers that are easy to manage, mobile, and cloud-connected, more secure and customisable. Here is how you can tell that you have a smart multifunction copier in your office:
Expert-free Installation
Smart multi-function copiers have built-in installation wizards so that anyone can connect a smart MFP to a network and mobile device.
Multiple Layers of Security
Hackers and data thieves love to attack and hack unprotected MFPs. Smart MFPs stop them in their tracks with multilayer defense, including encrypted hard drives, image overwriting, password protection, and secure print.
With the GDPR added, having secure printers should be a priority for your business. Keep in mind that copiers, being endpoints of networks, are susceptible to hacking. So without the proper technology in place, your company is vulnerable to security threats.
Smart MFPs can help you avoid print-related breaches as these devices have advanced security technology. Data routed or stored in MFPs are encrypted. To prevent unauthorized access, they have features like PIN code or secure user access. No one can use printers or take printed documents without proper credentials. You can also track device usage, thereby enabling you to identify who is responsible for any data leak.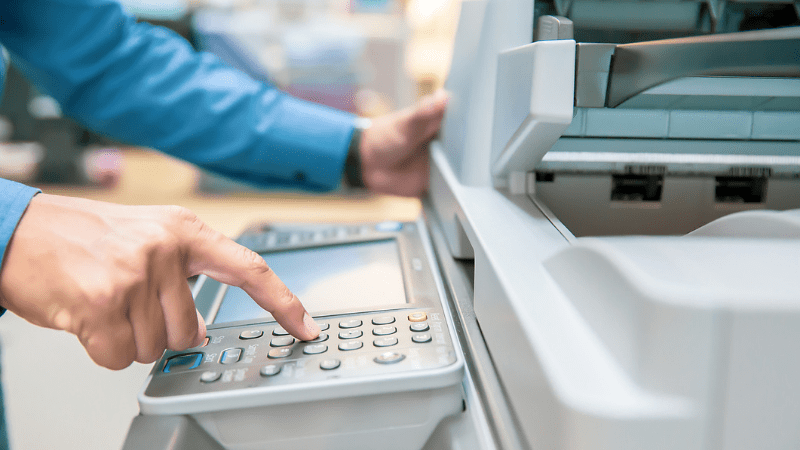 Tablet-like Touchscreens
If you have ever stared at a copier wondering which button to push next, you will appreciate the smart MFP touch screens that lead you step-by-step through tasks like printing from the cloud or printing from a mobile device and scanning to a mobile device.
Tap, Print and Go
You can bypass a network login and turn up the speed on mobile printing with integrated NFC tap-to-pair, WiFi Direct, and Apple AirPrint technologies.
Cloud Optimization
If you archive vital documents on the cloud, you can work faster and more efficiently with smart MFP apps that can scan documents directly to your cloud or retrieve and print them with just a few clicks.
Customizable interface
If you want to make your employees happier and more productive, you can create personal profiles that save each member's preferences like cloud folder address and print resolutions and put favorite functions front and center on the touchscreen.
Help When Needed
From upside-down faxes to paper jams, smart MFPs can diagnose and show you how to fix problems. You can even add an application to automatically order supplies to keep your MFP and your office operating without any issue.
Mobility
This trend points towards the use of mobile devices as the standard in most businesses, especially as more companies embrace BYOD and work-from-home practices. Recently, it has been reported that 75% of employees are working on mobile devices.
With the adoption of these practices comes the need to have the proper office equipment to make sure that business processes remain seamless. Employees need to be able to print from anywhere, be it from their homes or a client's office. Smart MFPs have the technology to allow this to happen through secure mobile printing. Your employees can print wherever they are and even outside your business network. With this printer capability, they can save time and resources.
Cost Tracking
These smart devices can help you track all copying, scanning, and printing activity through their advanced print management software. Reports can be done for you to understand how your business is using your print infrastructure, including what you are spending on as well as how much.
If you think that your office does not have a Smart MFP yet and you wish to own one but you are not ready to purchase it, you can always lease a Smart MFP through your local leasing company. They can give you the best deals on the copier of your choice.If you are in Las Vegas and you are looking to purchase a copier for your business, you may contact Clear Choice Technical Services in Las Vegas. You can ask about Copier Leasing Services in Las Vegas, Copier rental services in Las Vegas.