Numerous copiers offer plenty of other functions that you may want to access. Picking from the many available options can be difficult especially if you are clueless about what copy machine to choose. Small business owners looking for the best copier solution may get overwhelmed when figuring out what copy machine best suits their business.
The best copy machine can guarantee excellent production capacity, image quality, functions, and support. This machine should be highly functional, cost-effective, reliable, fit even in a limited space, and meet all the copy and printing needs of your small business.
What Copy Machine Best Suits Small Businesses-Know the Features
Even though the world is going paperless, it doesn't really mean that your clients are. Your small business still needs to copy, print, or reproduce essential documents, so a copy machine is of the essence. You'll know easily what copy machine is perfect for your small business if this has these quality features:
Production Capacity
This feature can be categorized into various functions like warm-up time, printing speed, and paper capacity. One of the issues business owners and workers faces are waiting for the copy machine to warm up. Quality copy machines were designed to resolve this situation. Moreover, the best copy machine for your small business can hold more than a thousand sheets of paper and boasts more sheet paper capacity allowing less downtime.
Printing Speed
Numerous high-end copy machines can produce quality copies of more than 85 pages every minute. The best copy machine is capable of producing at least 35-45 or even more copies every minute. The rate should be the same or close for both coloured and black and white copies.
Image Quality
The best copy machine is designed to give copies with guaranteed excellent image quality. The best copy machine can at least deliver copies at 1200×1200 dots per inch for both black and white and coloured copies. Some copiers can achieve more than this, but the image quality is not that good and noticeable.
Copier Design
A high-quality copy machine displays particular design characteristics that make it stand out. How the copy machine was built in connection with the user's needs is considered a function of proper design. Aside from user-friendly functions, touch screen operation and intuitive user command are evident in the best copy machine. Security features like user authentication and secured printing are also added perks.
Real-time Help and Support
Some support might be provided by the company they lease or rent a copy machine from. If you own a small business, the best copy machine that suits your business is the type that offers phone, online, and email support to ensure a seamless copy machine experience.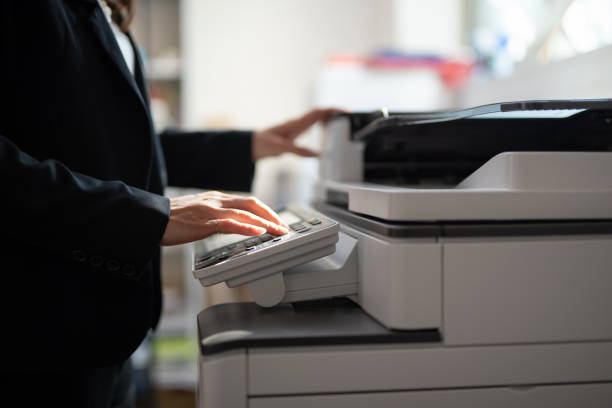 Reasons Small Businesses Need the Best Copy Machine
Having the best copy machine is crucial for the survival and growth of your small business. This device helps facilitate business by making necessary copies of documents and streamlining processes. The following are reasons your small business needs the best copy machine:
Increased Productivity
Having the best copy machine is an excellent way of boosting productivity. The best copier can push more than 50 pages per minute. Users of this machine can therefore perform jobs continuously. All tasks related to copying will be done at the business office, including all paperwork so that delays will be avoided. This increases employee efficiency and productivity.
Increased Savings
Another reason small business owners need the best copy machine is increased savings. This machine has become more energy-efficient over the years and adds up to savings in terms of energy bills. Considering the excellent printing capability of the best copy machine, less paper will be used, and you'll save money and boost business efficiency.
If you have outgrown the copy centre in your local area for your paper needs, it might be the perfect time to rent, lease, or purchase your own copy machine. This move will provide numerous benefits good for your business that needs to grow and expand continuously.
If you plan to get copiers for your office in Las Vegas, you can buy or lease copiers in Las Vegas. We can give you the option to get the copier that you want. You can contact our local copier leasing services department in your location.
If your Location is around Las Vegas, you may call us at (702) 323-0606, and our personnel for copier leasing in Las Vegas will assist you. If you are also looking for copier repair services in Las Vegas you may contact our copier repair personnel at the same number.
We're always ready and available to help you with all your printing and copy machine needs. We also provide our clients with much-needed tech support. You can visit our page and explore the best options made available for you.